Industry Stalwart and Community Leader Arunkumar R. Mehta Passes Away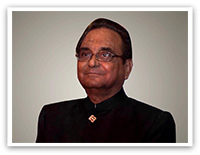 Was a pioneer among modern diamond exporters and a committed philanthropist too

Diamond industry stalwart and highly respected community leader Arunkumar Ramniklal Mehta passed away on June 14, 2020. He was 80 and is survived by his wife Rajanika, son Russell and daughters Amita Samir Mehta and Alpa Nishit Kothari.



Industry Stalwart
Arunbhai, was one of the pioneers of the modernisation and rapid growth phase that the Indian diamond industry embarked on from the late 1970s. He was a visionary, with his uncanny business acumen rooted in an ethical and humanitarian approach.
While ably guided the company that he founded – Rosy Blue – to diversify from manufacturing to trading, global marketing and even retailing with amazing focus, impeccable integrity and outstanding leadership, Arunbhai also played a prominent role in steering the Indian diamond industry through these exciting times.
At a personal level, his immense contribution lay in training and guiding many of the country's successful diamantaires. He remained a mentor for many of the next generation, who also recall how he would easily analyse the most complex of issues and offer practical advice and suggestions on how to overcome problems.
Alongside, Arunbhai selflessly dedicated efforts to the growth and sustenance of the industry through his involvement in numerous trade organisations. He was a member of the Managing Committee of the Bharat Diamond Bourse for a long period. He was also associated with the Bombay (now Mumbai) Diamond Merchants Association and a member of the Working Committee of The Gem & Jewellery Export Promotion Council for over 20 years.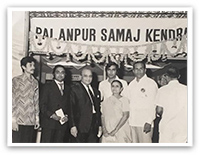 Community Leader and Committed Philanthropist

Arunbhai was actively involved in a number of social and philanthropic organisations over the decades and took keen personal interest in each one of them, adding immense value through his guidance and leadership. Those who worked alongside him recall that his inimitable style of mentoring where he managed to draw out people's potential. He was associated with several organisations in the field of education, healthcare and religion.

He was Chairman of Palanpur Samaj Kendra, Mumbai and of Vidyamandir Trust, Palanpur for several years. Amongst several others, he was also associated with Sir Kikabhai Premchand Trust, Banaskatha District Kelavni Mandal and the Gem & Jewellery National Relief Foundation. All the organizations will miss his stable presence immensely.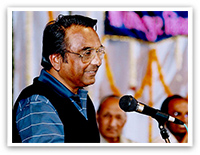 Remembering Arunbhai's contribution

Rajiv P Mehta Chairman of Vidyamandir Trust says, "On behalf of Vidyamandir Trust and all our stakeholders, I am deeply saddened to hear of the passing away of our former chairman, Shri Arunbhai Mehta. His memories will always be cherished and he will be remembered fondly as a great leader of our institution. We will always be guided by his values and vision.


Our deepest condolences to Rajnikabhabhi, Russellbhai and the entire family. May his soul rest in peace."

Ashish K. Mehta, Managing Trustee of Vidyamandir Trust remembers, "Arunbhai actively participated in a range of charitable organizations, adding immense value through his guidance and leadership. He was a leader sans comparison: his effective, nurturing style successfully unlocked people's potential and even enthusiasm. Notably, he served as Chairman and Trustee of Vidyamandir Trust, Palanpur and we will miss his stable presence immensely.

"For several years he would visit Palanpur in winter and spend lot of time with the management, staff, parents and teachers. Vidyamandir family always keenly looked forward to his annual speech.

"On a personal level, Arunbhai was a person with great clarity of thought and vision. Endowed with uncanny ability to assess problems with great simplicity, he arrived at practical and sustainable solutions. For those who knew him, he was always a phone call away: no problem or discussion was ever delayed or avoided.

"He was the inspiration and most instrumental in setting up of Palanpur Online and launched it in 2008."

Recalling Arunbhai's long association with the organisation, Bharat P Mehta and Sunil B Jhaveri, Hony Secretaries of Palanpur Samaj Kendra (PSK) say, "Arunbhai was associated with the Palanpur Samaj Kendra continuously from 1965 to 2020, being the Chairman for a long period, and as Chairman Emeritus over the last few years. He was a true mentor for community, always concerned about the needs of the Samaj and ready to be involved in every type of endeavours for its progress.

"His youthful enthusiasm and the vigour with which he got personally involved in each activity, be it relief work, development projects, or social events was a continuous source of inspiration for other members of the PSK Committee.

"In particular, the reconstruction of Shanti building, the centre of PSK activity became a reality due to his involvement, interest and effort.

"We at PSK realise that it will be very difficult to fill the gap he has left.

"PSK will always fondly remember Arunbhai and on behalf of the Samaj offers heartfelt condolences to his family and prays for departed soul."